CCTVMEA IP video surveillance solutions deliver excellent HD image quality and meet new security challenges. Learn how CCTVMEA products protect the security and safety of different industries such as Banking, Retail, Health Care, Education, etc.
140 pcs of Vandal-proof Mini Dome Network Cameras
140 pcs of CCTVMEA Vandal-proof Mini Dome Network Cameras and 4 pcs of CCTVMEA H.265 Pro NVR 8000 series were employed in a Nursing Home in Sydney, Australia.
The Nursing Home is a new state of the art facility that has 400 beds and employees over 100 staff. It consists of 4 Buildings and shared Parking Garage. It aims at providing a sweet, cozy and safe environment for elderly people with its gorgeous living environment, advanced equipment and reliable security system. CCTVMEA offers surveillance solution that matches the architectural style of the buildings, covers all areas in sight and the most important, upgrades the overall security level for the Nursing Home.
The challenge was that the Nursing Home required all cameras to be the same style but with different applications and must be 4K UHD quality. It also required to have different viewing points of live footage to cover all areas without blind point and the true 4K UHD quality NVR for main control room.
Before the Nursing Home made decision on choosing CCTVMEA surveillance solution, CCTVMEA had ran a 2-month trial for the customer. 3 network cameras had been installed in main entry lobby, car park and roof top where the lighting conditions are different throughout day and night. 2 months later, the Nursing Home was happy with the performance and chose CCTVMEA surveillance solution. 140 pcs of Vandal-proof Mini Dome Network Cameras, 4 pcs of H.265 Pro NVR 8000 and 5 CMS were chosen to overcome the surveillance challenge.
Blend-in with the Structure Styles
As the Nursing Home requested, the cameras should be of high quality and of same style to match the refined taste of overall architecture, so the Vandal-proof Mini Dome Network Camera on the one hand won the project by reliable quality. Its impact and neat look on the other hand, made the model the exact one for the Nursing Home buildings.
Reliable&Powerful Both Indoor and Outdoor
To cover four buildings, 140 pcs of Vandal-proof Mini Dome Network Camera have been installed. The main control station is in the Nurse Station Office which is supplied with 5 high-performance computers with configured CCTVMEA CMS and 4 pcs of CCTVMEA H.265 Pro NVR 8000, so the Nurse Station can watch all the monitored places including Ambulance Entrance, Main Lobby, Car Park Entry and Lounge Area, etc. Among the 140 pcs of cameras, there are 90 pcs of vandal-proof camera with 3.6mm and 2.8mm lenses having been installed indoor and 50pcs with 3.6mm lenses outdoor and in Parking Garage. The lighting condition is variable both outdoor and indoor since the skylight design of Nursing Home let the light condition change with day and night, rain and shine. The exceptional light sensitivity of CCTVMEA Vandal-proof Dome Network Cameras, along with their latest IR LED and Super WDR functionalities, make them a good fit for the variable lighting conditions in these locations. The cameras indoor help staff to keep an eye on elderly people and to quickly response to emergency. The IP67-rated weather-proof and IK10-rated vandal-proof of CCTVMEA Vandal-proof Dome Network Camera make them be apt for outdoor surveillance.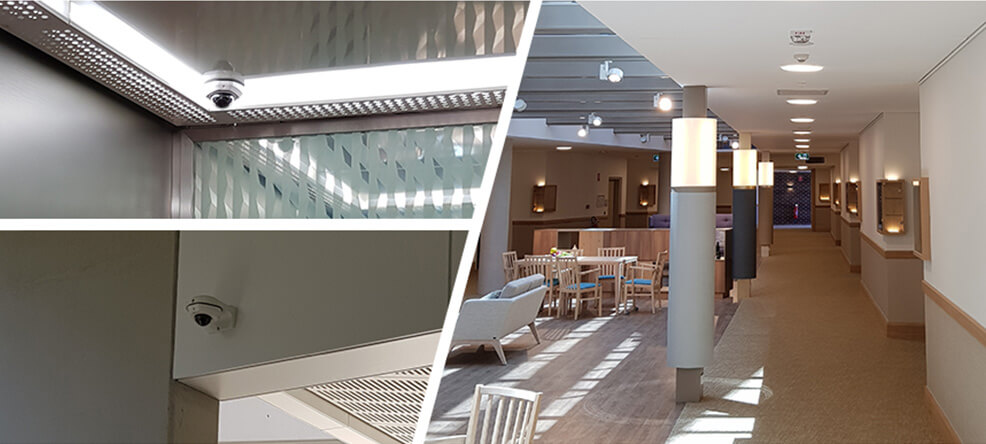 Perfect Match of Front-end and Back-end
Though CCTVMEA surveillance is acclaimed for its good compatible ability, the CCTVMEA front-end together with CCTVMEA own back-end even more perfect. The powerful decoding and recording performance of CCTVMEA NVR 8000 and the user-friendly central management system, CCTVMEA CMS, have made up a comprehensive back-end for the surveillance solution. The user-friendly feature and powerful capacity help staff in Nurse Station better monitor the place in a more convenient way.

The Nursing Home is now able to watch over the elderly people more carefully and mitigate problems by monitoring their activity. CCTVMEA surveillance system fits the architecture style and enables security staff better visually verify every detail in various lighting condition and different monitoring spaces.
Copyright © 2023 CCTVMEA. All Rights Reserved.