Including AI Vandal-proof Mini Bullet Camera, AI Motorized Bullet Camera, AI Weather-proof Mini Dome Camera and AI 3X AF Motorized Dome Camera, the AI Mini Series 3.0 is born to update your vision. With a revolutionary combination of IP67&IK10 and other shining features, the AI Mini Series 3.0 is ready to challenge your understanding to MINI.
Supporting higher resolution up to 4K and higher frame rate, the renewed Mini Camera Series is tailored for more advanced and sophisticated applications. Being Mini in the size, but powerful in the functionality, the innovative Mini Camera Series is the ideal choice to meet various monitoring needs.
Leading-edge H.265+ Compression
Sharply contrasting to the mini size, the cameras of the Mini Series 3.0 feature the industry leading IP67-rated weather proofing and IK10-rated vandal proofing, which allows the cameras to protect themselves against adverse impacts to ensure the robust performance.
Up to 0.001Lux Ultra Low-light
The cameras of the Mini Series 3.0 are able to deliver high detailed color images even in the low light environments reaching 0.001Lux (Color) or 0Lux (B/W), and near infrared light environments without any supplementary lighting.
Milesight's sensor-based WDR technology allows the cameras to record greater scene details with true color reproduction even under the extreme back light and high contrast conditions. The ratio that the brightest light signal values divided by the darkest light signal values is up to 140dB.
Revolutionary IR Performance
To maximize the IR performance, the cameras of the Mini Series 3.0 innovated both in the structure and technology. The advanced Smart IR II technology guarantees superb IR performance with the combination of High Beams and Low Beams and adjustable illumination intensity. The infrared light transmittance is greatly increased with IR anti-reflection panel which is well designed for better IR effect.
The cameras of the Mini Series 3.0 all feature 3-axis mechanical design for fast and easy adjustment of the camera's viewing angle, allowing you to position the camera precisely.
Integrated Junction Box(optional)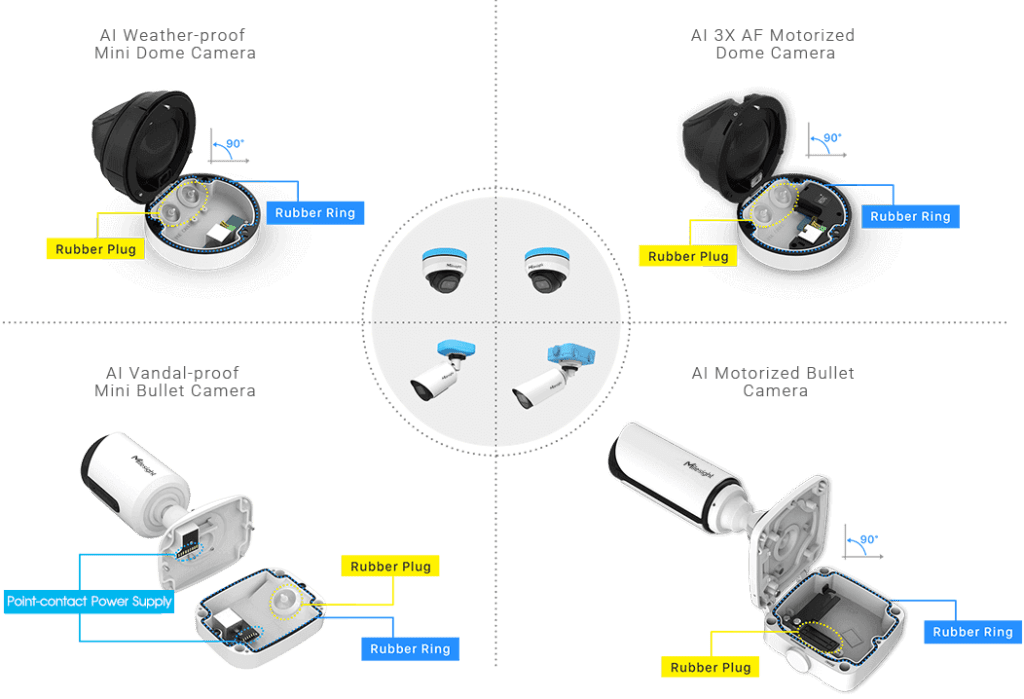 The well-designed Integrated Junction Box especially the Clamshell structure, ensures efficient and simple installations. It enlarges the space to make cable connections neat and as easy as a piece of cake. With the help of the rubber plugs and rubber rings which guarantee IP67-rated weather-proof capability, the Integrated Junction Box is able to offer stable operation in any tough conditions.
Copyright © 2023 CCTVMEA. All Rights Reserved.