CCTVMEA Intelligent Traffic Camera
Plates. Vehicles. Traffic. We Have Everything Under Control.
Tailored for the most powerful and easy-to-use traffic monitoring solutions, Milesight Intelligent Traffic camera is packed with AI LPR algorithms, high-performing hardware and robust structure to lead the way towards intelligence, ensuring road safety and intelligent traffic management anytime, anywhere.
For intelligent traffic Camera, the ability of capturing quality traffic details is undoubtedly the top basis. A good intelligent traffic camera should be able to deliver clear results no matter day or night or how fast the vehicle drives. And that's exactly the first highlight of Milesight Intelligent Traffic cameras.
Not Just LPR, We Provide More
When AI meets LPR, the camera will not only just recognize the plates, but also identify vehicle features, which can then be searched by LPR Smart Search for handy traffic monitoring.
Embedded AI LPR Algorithms
Based on AI deep learning neural network
Detect and recognize vehicles, plates and characters precisely in real-time
Deal better with smudges, plate variation or lighting changes than traditional LPR algorithms
AI-based Vehicle Attributes Recognition
Key Considerations for Road Traffic Management
Superior Images + Advanced AI Algorithms + Customer-oriented Solutions
3D Radar, AI and LPR are innovatively combined to one camera that not only enables to identify vehicles and read plates accurately, but also provides extra real-time data of vehicle speed and direction, etc.
Excellent Radar Capabilities for Road Monitoring
32 Vehicles
Detected at One
Time
Provide a three-dimensional detection that can visualize vehicle position compared to conventional radar technology.
Provide a three-dimensional detection that can visualize vehicle position compared to conventional radar technology.
Foggy Days
Rainy Days
Low Light Environment

Strong Light Environment
Manage Plates, Search Vehicles
Black/White List Management
Automatically identify license plates based on the embedded whitelists or blacklists, enabling effective entrance & exit control by taking instant actions according to the plate types.
Search relevant videos quickly by searching for only a portion of the target suspect vehicle's features, such as color, plate color, plate number, vehicle type, brand and direction.
List Scheduling Management
Ensure extremely flexible and customizable entrance & exit control for different days and time periods to enhance the security and fulfill the management needs.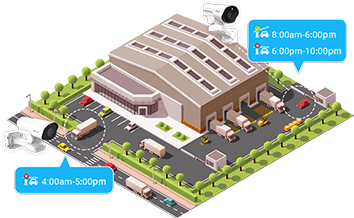 Standalone or VMS-integrated, Up To You
Stand-alone solutions with the built-in AI LPR algorithm and blacklists whitelists enable the fast implementation for applications like gates or barriers controlling.
Closed-loop ANPR Solution
Work with Milesight own back-ends including Milesight NVR, CMS and Milesight VMS Enterprise to form highly integrated ANPR solutions
3rd Integration with CGI/APIs
Offer various CGI/APIs and support interfaces and protocols like Wiegand, TCP, HTTP, etc., allowing easy and open integration with other VMS or platforms like Network Optix to deliver user-friendly ANPR solutions.
The Intelligent Traffic Most Regions and Countries
Backed up by strong R&D strength and accumulated expertise in intelligent traffic applications, Milesight Intelligent Traffic cameras can be well applied to broad regions and countries worldwide.
Upgrade to Intelligent Entrance & Exit Management
Upgrade your entrance & exit management by simply saying hello to us and we will map your needs to tailor the best solution for you!
Now, let Milesight bring you a extremely efficient experience in simplicity.
Discover More about Milesight Intelligent Traffic Solution
Copyright © 2023 CCTVMEA. All Rights Reserved.