AI Motorized Pro Dome Network Camera
Intelligent and Robust for Mission-critical Applications
2/5/8MP · AI · 3 in 1 Super WDR Pro · 0.001Lux Ultra Low-light · IP67 · IK10 · Smart IR II · 90m IR Distance · PoE · 100fps · 1/1.8" STARVIS Starlight Sensor
Milesight AI Camera Series can intelligently filter objects to focus on human and vehicle detection in multiple events such as Region Entrance, Region Exiting, Loitering, Advanced Motion Detection, etc.
High accuracy and real-time people counting based on AI algorithm, with statistic reports for further analysis, helps to make fast decisions on security management and increase the operational efficiency of the business.
Face Detection function detects human faces in the monitoring scene and captures the snapshots, which greatly enhances the monitoring efficiency and benefits the large population related industries such as public security, access control and business management.
With scenario-adaptable and flexible configurations, Milesight Advanced Heat Map is embedded into the AI series which can analyze customers' movement to reveal insights for better business management with the intuitive and accurate statistical analysis results in time or space pattern as needed.
Leading-edge H.265+ Compression
With the starlight premium technology, Milesight AI Camera Series is able to deliver high detailed color images even in the low light environments reaching 0.001Lux (Color) or 0Lux (B/W), and near infrared light environments without any supplementary lighting.
3 in 1 Super WDR Pro - 140dB
Milesight upgraded 3 in 1 Super WDR Pro outputs three frames each line, which is able to bring more details especially moving subjects. What's more, it greatly improves image quality for reducing smear and noisy points. The ratio that the brightest light signal values divided by the darkest light signal values is up to 140dB.
With the industry leading frame rate reaching 100fps, Milesight Network Camera can easily catch images with no latency despite of the high-speed movement.
The IR LEDs technology has been upgraded to provide videos with a viewing range of up to 50m(90m). Two LEDs on the top work as High Beam, while the other two on the bottom as Low Beam for better image clarity and quality regardless of the object distance. Also, the Low Beam and High Beam's brightness can be adjusted manually or automatically on the basis of the zoom ratio.
1/1.8" STARVIS Starlight Sensor
Adopting the top-notch Sony STARVIS Starlight Sensor, Milesight Network Camera improves every aspect of image quality. The high sensitive sensor allows the camera to achieve excellent video quality in 4K with better low-light sensitivity.
4K Video Viewing Experience
Milesight AI Motorized Pro Bullet Network Camera delivers up to 4K resolution (3840*2160, effectively four times that of Full HD) at 30 frames per second (fps), providing users with ultra-high-definition video viewing experience.
Adopting P-Iris control technology, Milesight AI Motorized Pro Dome Network Camera is able to optimize the iris opening under all lighting conditions, offering images with better contrast, clarity, resolution and depth of field.
3rd Generation Dot Matrix IR LEDs
In order to provide superior night visibility, the AI Motorized Pro Dome Network Camera employs the 3rd generation dot matrix IR LEDs, essentially guaranteeing excellent image quality, long lifespan and energy efficiency.
Equipped with motorized zoom & focus lens, Milesight AI Motorized Pro Dome Network Camera allows remote control of focal length, iris and focus through the use of a lens controller, which is perfect for long distance surveillance in areas such as parking lots, highways and ports.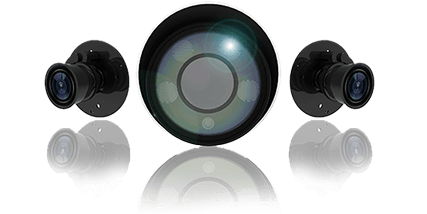 Aiming to reduce the installation troubles to the least, Milesight creatively introduces the clamshell design to the dome base. This revolutionary innovation enlarges the space to make cable connection a piece of cake, greatly saving efforts for installers.
Milesight AI Motorized Pro Dome Network Camera supports Smoked Dome Cover which is able to hide the direction of the camera for not letting people see where the camera is pointed.
Integrated Cable Management
In the base, there are power interface, PoE port, Alarm I/O and Audio Output. Thanks to integrated cable management, it takes no effort in installation.
For installers, holding the camera body to secure the screws into the wall is a fatiguesome job. Being customer-oriented, Milesight optimized the hardware structure to avoid that with a light thin mounting bracket, installers could firstly secure the mounting bracket in the desired location and then insert the camera body, thus no unnecessary energy is wasted.
Available in White and Black, the AI Motorized Pro Dome Network Camera provides more choices for your preference.
Milesight AI Motorized Pro Dome Network Camera features industry leading SIP/VoIP function and video streaming for mobile phones and video phones.
Copyright © 2023 CCTVMEA. All Rights Reserved.